Quest Page: Spoiler Warning.

This is a page describing a single quest in detail, and thus it may (and probably will) reveal plot or quest details. Spoilers will not be hidden from view. For a spoiler-free description of the quest (including difficulty and prerequisites), go here.
| | |
| --- | --- |
| Location:  | The house of Teagurn the Seer, in the harbour area of Tryndmoor |
| Description:  | Explore what lies beneath the hatch in the back room of the Loch Leap alehouse, and search for the silver dragon statue shown you by Teagurn the Seer. |
| Requirements:  | Across a Crowded Room |
| Difficulty:  | Varies. MR 80 is probably sufficient, less if you have the Creyn Blade. |
General Information
Edit
This quest requires you to slog around the sewer system of Tryndmoor in search of a silver dragon statuette. The Tryndmoor sewers are currently the largest mappable region in the world of Sryth.
After acquiring the Small Silver Skulls, place one on each plinth, get the Dragon Statue, then 'pass the test' (use Divination then Thievery).
Prerequisites
Edit
Legend
L: ladder (entrance/exit)
D: dragon painting and Silver Dragon Statue
P: stone plinths
K: Small Steel Key

To get each key you must kill an increasingly larger group of skeletons (from left: 1,2,4,6,8,10). MR appears to have some randomness, but the bigger groups are definitely tougher than the smaller. The group of 10 has been observed to be as high as 9+ at MR ~90.

S: Small Silver Skull

To get the silver skulls, you must kill large groups of ghouls (from bottom: 5,3,7,9). Also variable MR.

Double lines: portcullises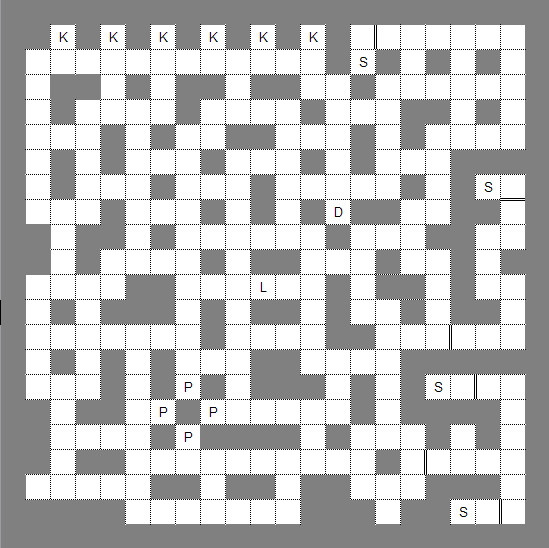 Text Directions
Edit
For the plinths, from the entrance:
West 1
South 5
West 1 (first plinth)
East 1
North 2
West 2
South 1 (second plinth)
North 2
West 2
South 3
East 1 (third plinth)
West 1
South 2
East 2
North 1 (fourth plinth).
For the items (from the entrance):
East 2
South 3
East 3
South 3
East 1
South 1
East 4 (theres a Portcullis here)
South 2
West 2 (first skull)
East 2
North 5
West 3 (second skull)
East 3
South 3
West 4
North 1
West 1
North 4
East 5
North 2
West 1
North 2
East 1
North 2
West 1 (third skull)
East 1
South 2
West 1
South 2
East 1
South 2
West 3
North 3
West 1
North 2
East 1
North 3
East 1
North 4
West 4
South 1 (fourth skull)
For the statue (from the entrance):
East 2
North 2
West 1
North 2
East 2
South 1
Ad blocker interference detected!
Wikia is a free-to-use site that makes money from advertising. We have a modified experience for viewers using ad blockers

Wikia is not accessible if you've made further modifications. Remove the custom ad blocker rule(s) and the page will load as expected.